Carly Dvorkin
Junior Rider
Date of Birth: January 1, 2001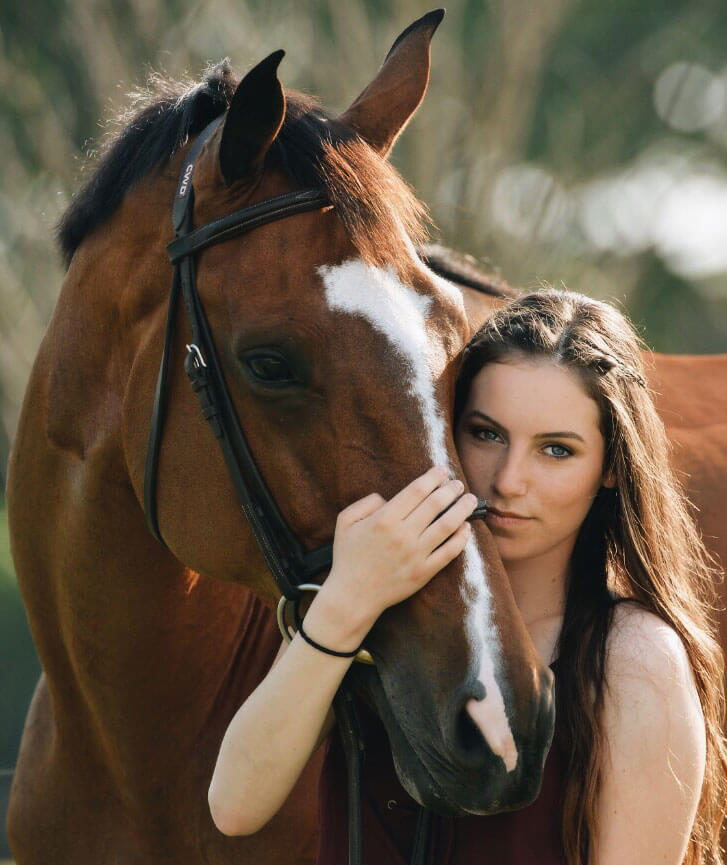 Amateur rider Carly Dvorkin is an up-and-coming rider who has had tremendous success in the Junior Jumper divisions. Under the guidance of her trainer David Blake, Carly has won on numerous Pine Hollow Farm horses including Carlotta 168, Catch Me Z, and Zelaleen.
She has placed in the top three at prestigious shows including the Winter Equestrian Festival, Tryon International Horse Show, Kentucky Summer Classic, Great Lakes Equestrian Festival, American Gold Cup, and the Rolex Central Park Horse Show. With the help of the Pine Hollow team, Carly finished with a Gold medal, representing the USA in the 2019 Maccabi Games in Budapest, Hungary.
Carly actively supports charitable fundraising through her riding, having raised over $500,000 for organizations such as Communities & Schools, Dandelion Eatery, Quantum House, and Aid to Victims of Domestic Abuse. Carly is a proud ambassador for CWD Saddles and Connolly's Red Mills.
Results:
2022:
1st CSI1* 1.25m Jumpers, LGCT Madrid
1st CSI1* 1.25m Jumpers, LGCT Madrid
2nd CSI1* 1.25m Jumpers, LGCT Madrid
2nd CSI1* 1.20m Jumpers, Oliva Nova
3rd CSI1* 1.20m Jumpers, Oliva Nova
3rd CSI1* 1.20m Jumpers, Oliva Nova
1st CSI1* 1.20m Jumpers, Sunshine Tour 6
2nd CSI1* 1.20m Jumpers, Sunshine Tour 6
3rd CSI1* 1.20m Jumpers, Sunshine Tour 4
4th CSI1* 1.20m Jumpers, Sunshine Tour 4
3rd 1.20m Jumpers, Toledo Horse Show 1
2021:
1st $10,000 NAL Amateur Classic, ESP Charity
3rd $3000 Low Amateur Jumpers, Tryon Fall 2
3rd Low Amateur Jumpers, Tryon Fall 2
2nd Low Amateur Jumpers, Tryon Spring 4
2nd Low Amateur Jumpers, WEF 8
1st $10,000 Low Amateur Owner Classic, WEF 4
2020:
2nd $5,000 Medium Jr/ Amateur Classic, Tryon August I
1st Medium Jr/ Amateur Jumpers, Tryon August I
2nd $5,000 Medium Jr/ Amateur Classic, Tryon Summer 6
3rd Medium Jr/ Amateur Jumpers, Tryon Summer 6
3rd $5,000 Medium Jr/ Amateur Classic, Tryon Summer 4
1st Medium Jr/ Amateur Jumpers, Tryon Summer 4
4th Medium Amateur Jumpers, Tryon Summer 4
1st $5,000 Medium Jr/ Amateur Classic, Tryon Summer 2
2nd $5,000 Medium Jr/ Amateur Classic, Tryon Summer 2
4th $5,000 Medium Jr/ Amateur Classic, Tryon Summer 1
1st $5,000 Medium Jr/ Amateur Classic, Tryon Spring 6
1st Medium Jr/ Amateur Jumpers, Tryon Spring 6
3rd Great Charity Challenge, WEF 4
2019:
2nd $2,500 Medium Junior/ AO Classic, ESP Holiday I
1st Medium Junior/ AO Jumper, ESP Holiday I
1st $2,000 Medium Junior/AO Classic, Tryon Fall 1
3rd Medium Junior Jumpers, Tryon Fall 1
Individual Team Gold, European Maccabi Games 2019
USA Team Bronze, European Maccabi Games 2019
3rd $10,000 High Junior/Amateur Classic, Tryon Summer 6
1st Zone 3/4 Championship, Tryon Summer 5
1st Medium Junior Jumpers, Tryon Summer 4
2nd Medium Junior Jumpers, Tryon Summer 4
4th $5,000 Medium Junior Jumper Classic, Tryon Spring 6
1st Medium Junior Jumpers, Tryon Spring 6
2nd $5,000 Medium Junior Classic, Tryon Spring 5
3rd $5,000 Medium Junior Classic, Tryon Spring 5
2nd Medium Junior Jumpers, Tryon Spring 5
5th Medium Tour 2*, GCT Miami Beach
3rd Medium Tour 2*, GCT Miami Beach
4th Medium Junior Jumpers, WEF 12
3rd $10,000 Medium Junior Classic, WEF 10
2nd Medium Junior Jumpers, WEF 10
3rd 1.40m Team Competition, CSI Juniors Nations Cup
2nd Power& Speed, CSI Juniors Nations Cup
3rd $10,000 Medium Junior Classic, WEF 6
1st Great Charity Challenge, WEF 4
5th Gold Champion Tour, Palm Beach Masters
3rd $10,000 Medium Junior Classic, WEF 2
3rd Medium Junior Jumpers, WEF 2
6th High Junior Jumpers, WEF 2
2018:
1st Medium Jr/AO Jumpers, ESP Year End Show
1st Medium Jr/AO Jumpers, ESP Holiday and Horses
3rd Medium Jr/AO Jumpers, Tryon Fall 4
1st $5,000 Medium Jr/AO Classic, Tryon Fall 3
4th Medium Jr/AO Jumpers, Tryon Fall 3
2nd $7,500 Medium Jr/AO Final, SRJT Columbus International
3rd Medium Jr/AO Jumpers, SRJT Columbus International
2nd Medium Jr/AO Jumpers, HITS Chicago
3rd $3,000 Medium Jr/AO Classic, HITS Chicago
3rd $3,000 Low Jr/AO Classic, HITS Chicago
2nd Medium Jr/AO Jumpers, HITS Chicago
4th $5,000 Medium Jr/AO Classic, Tryon Summer 6
2nd Medium Jr. Speed, Tryon Summer 6
1st $1,600 Medium Jr/AO Classic, Tryon Summer 2
1st $1,600 Medium Jr/AO Classic, Tryon Summer 1
2nd Medium Jr/AO Jumpers, Tryon Spring 6
1st $5,000 Medium Jr/AO Classic, Tryon Spring 2
1st NAL Low Junior Classic, ESP Spring 4
3rd 1.30m CSI 2*, LGCT Miami Beach
2nd Medium Junior Jumpers, WEF 11
3rd Medium Jr. Speed, WEF 9
3rd Medium Junior Jumpers, WEF 9
2nd $10,000 Low Junior Classic, WEF 5
4th Medium Junior Jumpers, WEF 5
3rd $1,600 Medium Jr/AO Classic, Tryon Summer 1
3rd Medium Jr/AO Jumpers, Tryon Summer 1
3rd Medium Jr/AO Jumpers, Tryon Spring 6
2nd $5,000 Medium Jr/AO Final, SRJT Lexington International
4th Medium Jr/AO Speed, SRJT Lexington International
2nd $5,000 Medium Jr/AO Classic, Tryon Spring 2
3rd Medium Jr/AO Speed, Tryon Spring 2
1st Low Junior Jumpers, Tryon Spring 2
4th Medium Jr. Speed, WEF 12
4th Low Junior Jumpers, WEF 11
2nd Medium Jr/AO Speed, Tryon Spring 2
3rd $10,000 Low Junior Classic, WEF 11
4th Low Junior Jumpers, Wef 7
3rd Low Jr. Speed, Tryon Spring 6
3rd Low Junior Jumpers, Tryon Spring 6
2nd Great Charity Challenge, Wef 4
2017:
USEF 1st Horse Of The Year 2017, Medium Junior Jumpers: Carlotta 168
Ranked 3rd Nationally, Medium Junior Jumpers
3rd $7,500 1.30m Junior Classic, GLEF VI
2nd Junior/ AO, GLEF VI
1st Low Junior Jumpers, GLEF VI
1st Junior/ AO Speed, GLEF V
2nd $5,000 Medium Junior Classic, Tryon Summer VII
2nd Medium Jr. Speed, Tryon Summer VII
4th Low Junior Jumpers Summer IV
6th $2,000 Low Junior Classic, Tryon Summer IV
2nd Low Junior Jumpers, Tryon Summer IV
2nd $5,000 Medium Junior Classic, Tryon Summer V
2nd $5,000 Medium Junior Classic, Tryon Summer III
1st Medium Junior Jumpers, Tryon Summer III
2nd Medium Junior Jumpers, Tryon Summer III
1st Modified Childrens, Tryon Summer III
2nd $5,000 Medium Junior Classic, Tryon May IV
3rd $5,000 Medium Junior Classic, Tryon May IV
1st Medium Junior Jumpers, Tryon May IV
4th Medium Junior Jumpers, Tryon May IV
2nd $5,000 Medium Junior Classic, Tryon May III
1st Medium Jr. Speed, Tryon May III
4th $10,000 Medium Junior Classic, WEF 12
4th Medium Jr. Speed, WEF 12
6th $10,000 Medium Junior Classic, WEF 11
1st Medium Jr. Speed, WEF 10
6th $10,000 Medium Junior Classic, WEF 8
2nd Medium Jr. Speed, WEF 8
2016:
USEF 1st Horse Of The Year 2016 , Low Junior Jumpers: Catch Me Z
Junior Jumpers, Circuit Champion Tryon Spring
2nd Low Junior/ AO Speed, GLEF VII
1st Low Junior/ AO Speed, GLEF VI
2nd $3,000 Low Junior/ AO Classic, Tryon August I
1st Low Junior/ AO Jumpers, Tryon August I
2nd $3,000 Low Junior Classic, Tryon Summer 3
2nd Low Jr. Jumper, Tryon Summer 3
2nd Low Jr. Speed, Tryon Summer 2
3rd Low Jr. Jumper, Tryon Summer 2
1st GCC of the Carolinas, Tryon Summer 1
1st $3,000 Low Junior Classic, Tryon Spring 8
1st Low Jr. Speed, Tryon Spring 8
3rd Low Junior Jumpers, Tryon Spring 8
2nd $3,000 Low Junior Classic, Tryon Spring 7
1st Low Jr. Speed, Tryon Spring 7
4th Medium Jr. Speed, Tryon Spring 6
3rd $5,000 Medium Junior Classic, Tryon Spring 4
1st Medium Jr. Speed, Tryon Spring 4
2nd $3,000 Low Junior Classic, Tryon Spring 3
1st Low Jr. Speed, Wef 11
1st Low Jr. Speed, Wef 10
4th Low Jr. Speed, Wef 8
4th Low Junior Jumper, Wef 5
2nd Low Jr. Speed, Wef 1
4th $3,000 Low Junior Classic, Tryon Fall 5
1st Low Jr. Speed, Tryon Fall 5
3rd Low Jr. Jumpers, GLEF VI
2nd Low Jr. Speed, Tryon Summer 3
1st $3,000 Low Junior Classic, Tryon Summer 1
2nd Low Jr. Speed, Tryon Spring 8
2nd $1,500 NAL Classic, ESP Pre Charity
1st $1,500 NAL Classic, ESP Fall Finale
2015:
USEF 4th Horse of the Year, Low Junior Jumpers: Zelaleen
Junior Jumper, Reserve Circuit Champion Tryon Summer
5th $5,000 U.S Price Waterhouse Jr./ AO Classic, Rolex Central Park Invitational
10th Low Junior Jumper, American Gold Cup
1st $5,000 NAL Low Junior/ AO Classic, Tryon August IV
1st Low Junior/ AO Speed, Tryon August IV
1st $5,000 NAL Low Junior/ AO Classic, Tryon August I
3rd Low Junior/ AO Speed, Tryon Summer 4
2nd Low Junior/ AO Jumper, Tryon Summer 4
2nd Low Junior/ AO Jumper, Tryon Summer 2
4th Low Junior/ AO Jumper, Tryon Summer 2
3rd Low Junior/ AO Speed, Tryon Summer 1
2nd $5,000 NAL Low Jr./AO Classic, Tryon Spring 8
2nd Low Junior/ AO Speed, Tryon Spring 8
3rd Low Junior/ AO Jumper, Tryon Spring 8
1st Low Junior/ AO Jumper, Tryon Spring 6
2014:
1st Horse of the Year- Low Children's Jumper- Joe Saltim Z
WEF Reserve Circuit Champion, Low Children's Jumper
1st $1,500 Low Children's Jumper, WEF 11
1st $1,500 Low Children's Jumper, WEF 10
1st $1,500 Low Children's Jumper, WEF 8
1st $1,500 Low Children's Jumper, WEF 7
1st $1,500 Low Children's Jumper, WEF 6
1st $1,500 Low Children's Jumper Classic, WEF 3
2nd Low Childrens Jumper Stake, Tryon Summer 2
3rd Low Childrens Jumper Stake, Tryon Summer 2
2nd Low Childrens Jumper Stake, Tryon Summer 2
1st Childrens Jumpers, Atlanta Summer Classic I
3rd Low Childrens Classic, ESP Spring 2
2nd Low Childrens Classic, WEF Week 12
Videos:
Carly Dvorkin

FTI Great Charity Challenge
Dvorkin

Great Charity Challenge